AAS 3671: History and Memory of the US Civil Rights Movement: A Southern Civil Rights Tour
The Memory Project / 2022 from Underground Shorts on Vimeo.
About the Course Leader
Professor Jalane Schmidt
Jalane Schmidt is Director of the UVA Democracy Initiative's Memory Project, and Associate Professor of Religious Studies. She teaches courses on race, religion, and social change movements, and is the author of Cachita's Streets: The Virgin of Charity, Race & Revolution in Cuba, a study of Cuban national identity, religion, and public events. A scholar-activist in Charlottesville, Virginia, Schmidt plans and leads public history events focused upon Civil War memory, Jim Crow, and local African American history. She cofounded the 2019-2020 Monumental Justice Virginia campaign which successfully lobbied the Virginia General Assembly to overturn a century-old state law which had prohibited localities from removing Confederate statues.
Course Information
Application deadline: October 15, 2023 DEADLINE EXTENDED TO OCTOBER 20, 2023!
History and Memory of the US Civil Rights Movement: A Southern Civil Rights Tour (AAS 3671) is a 3.0 credit hour course designed for 3rd and 4th year students (2nd year students considered on a case-by-case basis). 2024 travel dates are January 4-10, with online classes January 2-3 and 11-12. AAS 3671 fulfills the Historical Studies requirement for UVA undergrads.
This course examines the history and legacy of the African American struggle for civil rights in twentieth-century America. It provides students with a broad overview of the civil rights movement -- the key issues, significant people and organizations, and pivotal events -- as well as a deeper understanding of its scope, influence, legacy, and lessons for today. 

Students will study the history and memory of the U.S. civil rights movement, mainly through visits and guided tours of key civil rights and other historic sites and museums, including:
Students will explore connections between segregation and the longer history of oppression in the South dating back to slavery. Students will also have the opportunity to engage in dialogue with local movement veterans and others dedicated to keeping the history and memory of the movement alive.  
Itinerary Highlights (subject to change)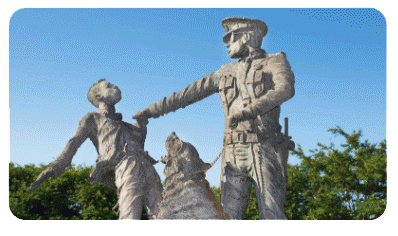 Course Fees
| | | |
| --- | --- | --- |
|   | In-State | Out-of-State |
| Billable Items: |   |   |
| Tuition | $1,377 | $5,055 |
| Program Fees | $2,750 | $2,750 |
|   |   |   |
| Billable subtotal: | $4,127 | $7,805 |
|   |   |   |
| Non-billable Items: (estimated costs) |   |   |
| Airfare | $375 | $375 |
| Meals | $170 | $170 |
| Luggage Fees and Transit to Hotel | $60 | $60 |
| Incidentals | $70 | $70 |
|   |   |   |
| Non-billable subtotal: | $675 | $675 |
| Total:  | $4,802 | $8,480 |
Financial aid is available for qualified applicants. 
The University of Virginia offers financial aid for January Term classes -- more information can be found here.
In addition to financial aid, the College of Arts and Sciences has generously offered to assist eligible students with the non-billable costs for this course. Student eligibility will be determined at the time of application. 
Included in billable costs:
On-tour instruction and class discussions led by UVA faculty 
Tour planner and guide 
All activities and sightseeing listed in the itinerary
Hotel accommodations as listed in the itinerary
Coach bus transportation between Birmingham, AL and Memphis, TN
All group meals listed in the itinerary
Gratuities for bus drivers and tours
Not included in billable costs (non-billable items): 
Travel to starting point in Birmingham and from end point in Memphis
Personal sightseeing not listed in the itinerary
Any meals, food and beverage not listed in the itinerary (ex. New Orleans and Memphis)
Expenses of a purely personal nature including cab fares, laundry and other personal items (room service charges)
Travel Insurance (we strongly advise each traveler arrange their own travel insurance)
Medical expenses
Costs associated with trip interruption or modifications due to weather, travel conditions, political/civil disputes, medical emergencies or other causes beyond our control
How to Apply
Application deadline October 15, 2023 DEADLINE EXTENDED UNTIL OCTOBER 20, 2023!
Questions? Email: aspeth@virginia.edu